Report Fraud, Waste and Abuse
Our nationally recognized Financial Investigations Department protects customers' interests by identifying, deterring and detecting all types of fraudulent and abusive activities. This team's effort saves Blue Cross and its members millions of dollars each year.
Our office investigates all matters of internal and external fraud on behalf of Blue Cross, as well as all other lines of business that we cover.
If your medical identity is stolen, your insurance information could be used by others to submit false claims under your name. You can protect yourself from fraud by monitoring your health care charges. Get the facts on medical identity theft.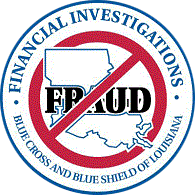 You Can Help
Request an itemized bill for health services and ask questions if you do not understand the bill
Insist on a receipt that shows the balance if you are required to make a payment
Check your Explanation of Benefits (EOB) closely to make sure dates and details of the medical services performed match your information
If you receive a cold call asking for your personal information including Social Security number, banking information or health insurance ID #, do NOT provide any information and hang up immediately
If you receive durable medical equipment, medications or genetic testing swab kits in the mail unexpectedly, do NOT use them and call the Fraud & Abuse Hotline at 1-800-392-9249
Reward Program
Open to customers who report potential fraud, waste and abuse
Referrals that result in substantial savings will be rewarded
Monetary rewards are not given
Contact Information
Fraud & Abuse Hotline – 1-800-392-9249
Call 24 hours a day, 7 days a week. You can remain anonymous. All reports received are confidential and you will never experience retaliation as a result of making a good faith report.
Postal: Blue Cross and Blue Shield of Louisiana
Attention: Financial Investigations Department
P.O. Box 98029
Baton Rouge, LA 70809-9029
You may also report Medicare Advantage fraud to the Investigations Medicare Drug Integrity Contractor (IMEDIC) at 1-877-772-3379.